Original Bosch Einspritzpumpe 0445010685 f. Audi VW Porsche 2.7 & 3.0 TDI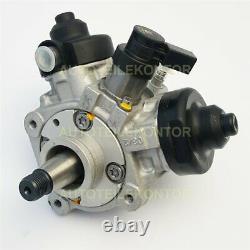 Original Bosch Einspritzpumpe 0445010685 Audi VW Porsche 2.7 & 3.0TDI. Austauschangebot (Verkauf im Tausch gegen Altteil). Bei Rückgabe des defekten Altteils, wird Ihnen die Kaution zurück überwiesen. Siehe Pfandregelung unten in der Beschreibung für mehr Details.
The deposit will be paid back after we receive your old defective car part. Please read core pledge policy in the item description for more details. Lors de la restitution de la pièce ancienne défectueuse, la caution vous sera remboursée.
Pour plus de détails, se reporter à la «réglementation sur la consigne» au bas de la description. Original Bosch CP4 CommonRail Einspritzpumpe / Hochdruckpumpe Zustand: Generalüberholt. Audi A4 2.7 TDI (B8, 8K2, 8K5, 8KH) auch für Avant & Allroad.
Audi A4 3.0 TDI Quatro (B8, 8K2, 8K5, 8KH) auch für Avant & Allroad. Audi A5 2.7 TDI (8T3, 8TA, 8F7 Cabrio) Sportback, Cabriolet. Audi A5 3.0 TDI Quatro (8T3, 8TA, 8F7 Cabrio) Sportback, Cabriolet. Audi A6 2.7 TDI (C6, 4F2, 4F5, 4FH) auch für Avant & Allroad. Audi A6 3.0 TDI Quatro (C6, 4F2, 4F5, 4FH) auch für Avant & Allroad.
Audi Q5 3.0 TDI Quatro (8R). Audi Q7 3.0 TDI (4L). VW Touareg 3.0 TDI (7LA, 7L6, 7L7, 7P5). VW Touareg 3.0 V6 TDI (7LA, 7L6, 7L7, 7P5). VW Phaeton 3.0 V6 TDI 4motion. Porsche Cayenne 3.0 Diesel. 0445010685, 0 445 010 685, 445010685. BOSCH, 0445010685, 0445010673, 0445010669, 0986437404, 0445010611, 0445010639, 0445010659, CR/CP4S2/R65/40. 0 445 010 685, 0 445 010 673, 0 445 010 669, 0 986 437 404, 0 445 010 611, 0 445 010 639, 0 445 010 659.
AUDI, 059 130 755 AH, 059 130 755 BB, 059 130 755 BD, 059 130 755 BK, 059 130 755 BS. PORSCHE, 958 110 316 21, 958 110 316 22. VW, 059 130 755 AB, 059 130 755 BD, 059 130 755 BL, 059 130 755 BS, 059 130 755 T. 0445010646, 0 445 010 646, O.
445O1O646, O 445 O1O 646. Original remanufactured Bosch Common Rail Fuel Injection Pump. Audi A4 2.7 TDI (B8, 8K2, 8K5, 8KH) also for Avant & Allroad.
Audi A4 3.0 TDI Quatro (B8, 8K2, 8K5, 8KH) also for Avant & Allroad. Audi A6 2.7 TDI (C6, 4F2, 4F5, 4FH) also for Avant & Allroad. Audi A6 3.0 TDI Quatro (C6, 4F2, 4F5, 4FH) also for Avant & Allroad. OM / OEM reference part numbers. Generalüberholt (zerlegt, gereinigt, Verschleißteile und defekte Teile ausgetauscht, zusammengesetzt, lackiert, auf Prüfstand mehrere Stunden getestet).
Bitte lesen Sie unbedingt die Pfandregelung. Bitte vergleichen Sie vor dem Kauf , ob einer der OEM/OM Vergleichsnummern auf Ihrem alten defekten Teil steht. Rücknahmen gestalten sich bei Produkten die bereits eingebaut waren nur sehr umständlich.
Wir gewähren für alle Artikel ein einmonatiges Rückgaberecht. Bitte haben Sie Verständnis dafür, dass wir bei Rücksendungen nicht für die Versandkosten aufkommen können. Der Preis gilt nur bei Rückgabe Ihres defekten Altteiles. Wir berechnen Ihnen 100 EURO Pfand zusätzlich bis Ihr defektes Altteil bei uns eingegangen ist. Dies dient dem Versandprozess zu beschleunigen.
Sobald Ihr defektes Altteil bei uns eingeht, wird Ihnen der Betrag zurückerstattet (wir brauchen in der Regel 3-6 Werktage). Die Rückversandkosten trägt der Kunde. Das beschleunigt den Versand ebenfalls. Falls Sie per überweisung bezahlen, überweisen Sie bitte den Kaufpreis + Pfandbetrag + Versandkosten um Verzögerungen zu vermeiden. Altteile müssen spätestens nach 45 Tagen bei uns eingehen. Nach 45 Tagen können Sie selbstverständlich auch noch Altteile zurück senden, aber hier kommt es zu einem Abzug von 30%. Weil wir nach 45 Tagen Ersatz beschaffen müssen. Ansonsten hätten wir kurz- bis mittelfristig diese Teile nicht im Programm. Das können wir uns nicht leisten. Altteile die nicht innerhalb 6 Monaten zurück gesendet werden, können nicht mehr angenommen werden. Wir finden diese Frist mehr als angemessen. Lange Rede kurzer Sinn; bitte senden Sie die Altteile innerhalb 45 Tage zu uns zurück.
Je schneller desto besser für uns alle. Schließlich wollen Sie den Pfandbetrag schneller zurück und wir die Altteile.
Bitte beachten Sie, dass Ihr Altteil pfandfähig sein muss. Keine äußerliche mechanische Schäden z. Keine abgebrochene Stecker, keine abgebrochene Sensoren. As Teil muss an einem Stück sein, d. Es darf nicht in Einzelteile zerlegt sein, sondern nur fachmännisch abmontiert.
Samstags und Sonntags findet kein Versand statt. Versand findet mit DHL statt kann ab Abgabe des Pakets bis zu 1 - 2 Tage dauern, allerdings i. Nachnahmesendungen verursachen zusätzliche Kosten Nachnahmepaket kostet derzeit zzgl. Nachnahmesendungen sind nur innerhalb Deutschland möglich. Nachnahmesendungen erfordern eine vorherige Absprache / Genehmigung, weil immer wieder Kunden Nachnahmesendungen nicht annehmen. Ab einem Warenwert von 500 EUR (Pfand nicht eingerechnet) übernehmen wir die Nachnahmekosten für Sie. Kunden von innerhalb EU, die eine EU-Umsatzsteuer-Identnummer besitzen bekommen die Mehrwersteuer komplett erlassen (minus 16%). Vorausgesetzt die Ware wird versendet, weil wir einen Versandnachweis benötigen. Wir können ins Ausland leider nicht per Nachnahme liefern. 2 WERKTAGE für Belgien, Dänemark, Finnland, Frankreich, Großbritanien, Irland, Italien, Liechtenstein, Luxemburg, Niederlande, Norwegen, österreich, Polen, Schweden, Schweiz, Slowakei, Slowenien, Spanien, Tschechische Republik, Ungarn. 3 WERKTAGE für Kroatien, Lettland, Litauen, Portugal, Rumänien. 5 WERKTAGE für Bulgarien, Estland, Monaco. INFO: English / Francese / Italiano. The product is reconditioned / remanufactured This means wear parts have been changed, all items have been checked several hours with a testing station from Bosch.
Please check the OEM/OM part number of your current defective item. If you find this number in our item description above as reference number, this is the right part number. Please ask your garage if you have any doubt. It is not reliable to search for the part using the vehicle list above.
If the part number isn't visible anymore on your current part this method can be used. Otherwise ask your garage to check the part number using a mirror or research camera. This price is only valid if you send us your old defective item.
We will charge you with additional 100 EURO as a deposit (core pledge) prior sending you the spare part. Please note that parts must be refundable. The items are not allowed to be mechanical damaged e. They are not allowed to be dismantled (only complete parts in are refundable). The part number on the item has to be readable.
VAT discount for customers from outside Germany: Customers within EU which have a valid EU-VAT-Number do not have to pay the German VAT (16% less). Cores must arrive within 45 days to us at the latest. After 45 days, you can of course also send cores back, but here it comes to deductions of 30% because we have to supply new cores if the pump doesn't arrive a certain time. Otherwise some products will not be available within shortest time. We do not accept any core after 6 months have passed. Long story short; please send the cores within 45 days back to us. The faster the better for us all. Finally, you want the deposit amount faster back and we need the cores back faster. Customers from outside EU do not have to pay the German VAT (16% less).
(démonté, nettoyé, pièces usées remplacées, réassemblé, peint, testé sur banc d'essai pendant plusieurs heures). Aucune importation bas de gamme du Moyen-Orient, mais seulement des produits d'origine, utilisés par le constructeur du véhicule. Avant d'acheter, veuillez vérifier si votre ancienne pièce défectueuse porte un numéro de comparaison OEM / OM. Les retours sur les pièces ayant été montées sont très compliqués.
Vous pouvez nous retourner toutes vos pièces sous un mois. 1 mois de droit de retour. REGLEMENTATION SUR LA CONSIGNE - TRÈS IMPORTANT! Le prix n'est valable que si nous recevons votre pièce défectueuse. Nous vous facturerons un dépôt forfaitaire de 100 EURO supplémentaires si nous ne l''avons pas reçu. Cela sert à accélérer le processus d'expédition. Le prix n'est valable qu'en cas de restitution de la pièce ancienne défectueuse. Nous vous facturons en plus une caution [100 EURO] (prix de l'article + caution + frais d'expédition) jusqu'à ce votre pièce défectueuse nous soit parvenue. Ceci sert à accélérer le processus d'expédition. Dès que votre pièce ancienne défectueuse nous parvient, la caution vous est immédiatement remboursée (3-6 jours). Les frais d'expédition de retour sont à la charge du client. Si vous payez par virement bancaire, veuillez transférer le montant de la consigne, le prix d'achat et les frais d'expédition en sus, afin d'éviter des retards. Les anciennes pièces doivent nous parvenir dans un délai de 45 jours au plus tard. Bref, veuillez nous retourner les anciennes pièces sous 45 jours.
Le plus vite, le mieux pour nous tous. Vous recevrez plus vite le retour de votre caution, et nous les anciennes pièces. Après 45 jours, vous pouvez bien sûr également restituer les anciennes pièces, mais ici une déduction de 30% est appliquée. Parce que nous devons obtenir un remplacement après 45 jours. Sinon, nous n'aurions pas ces éléments dans le programme à court et à moyen terme.
Nous ne pouvons pas nous permettre cela. Les pièces anciennes qui ne sont pas retournées dans les 6 mois ne peuvent plus être acceptées. Nous trouvons ce délai plus que suffisant. Longue histoire courte; veuillez nous renvoyer les anciennes pièces dans les 45 jours. Le plus vite le mieux pour nous tous.
Après tout, vous voulez récupérer le dépôt plus tôt et nous voulons les anciennes pièces. Veuillez noter que votre pièce défectueuse doit pouvoir être consignée.
« Etre consignée » signifie : - Aucun dommage mécanique externe (par exemple, pas de connecteurs cassés, pas de capteurs cassés). La pièce doit être en une seule pièce, c. Elle ne doit pas être en pièces détachées, mais uniquement démontée de manière professionnelle. A l'étranger, les livraisons contre remboursement ne sont possibles que dans des cas exceptionnels.
Contactez nous pour cela avant l'achat. Réduction pour les clients avec un numéro valide de TVA européenne et pour les clients à l'extérieur de l'UE. Les clients de l'UE qui ont un numéro de TVA valide reçoivent une réduction à hauteur de la TVA allemande (16%). Les clients en provenance de pays non membres de l'UE ne paient pas la TVA allemande (16%). Cela vaut également pour les clients non-commerciaux. Stato: Ricondizionato (smontato, pulito, parti di usura sostituite, assemblato, verniciato, testato su banco di prova per diverse ore). Nessun importazione a basso costo dall'Estremo Oriente, ma prodotti originali, utilizzati dal costruttore del veicolo in fabbrica. Prima dell'acquisto, confrontare se il pezzo usato difettoso riporta uno dei numeri di riferimento OEM/OM. I resi per i prodotti già montati risultano molto ingombranti. Concediamo una garanzia di rimborso di un mese su tutti gli articoli.
1 mese di diritto di recesso. Il prezzo è valido solo per la restituzione della parte usata difettosa. Vi addebiteremo una cauzione di 100 EURO in aggiunta fino alla ricezione da parte nostra della parte usata difettosa. Questo serve ad accelerare il processo di spedizione.
Non appena riceveremo la parte usata difettosa, l'importo vi sarà subito rimborsato (3-6 giorni). Le spese di spedizione del reso sono a carico del cliente. Se pagate con bonifico bancario, vi preghiamo di trasferire l'importo della cauzione più il prezzo di acquisto e le spese di spedizione, al fine di evitare ritardi.
Vi preghiamo di notare che la parte usata deve poter essere soggetta a cauzione. Nessun danno meccanico esterno (ad esempio, senza spine rotte, senza sensori rotti). Il codice della parte deve essere visibile e leggibile. La parte deve essere in un unico pezzo, cioè non deve essere suddivisa in singole parti, ma solo smontata professionalmente.
I tuoi vecchi pezzi devono pervenirci entro 45 giorni al massimo. Dopo 45 giorni, puoi ovviamente rispedire anche i tuoi pezzi vecchi, ma qui si tratta di detrazioni del 30% perché dobbiamo fornire altri pezzi vecchi se la pompa non arriva in un certo tempo. In caso contrario, alcuni prodotti non saranno disponibili nel minor tempo possibile. Non si accettano resi di parti vecchie dopo 6 mesi.
Per farla breve; si prega di rispedirci le parti vecchie entro 45 giorni. Più veloce è, meglio è per tutti noi.
Le consegne contrassegno all'estero sono possibili solo in casi eccezionali. Per questo è necessario contattarci prima dell'acquisto. Sconto per i clienti con una partita IVA UE valida e per clienti al di fuori dell'UE. I clienti all'interno dell'UE, che hanno una partita IVA valida ricevono lo storno completo dell'IVA tedesca (meno 16%).
I clienti provenienti da paesi extra-UE non devono pagare l'IVA tedesca (meno 16%). Questo vale anche per i clienti non commerciali. Original Bosch Einspritzpumpe 0445010685 f. Audi A4 A5 A6 2.7 & 3.0TDI. The item "Original Bosch Einspritzpumpe 0445010685 f.
Audi VW Porsche 2.7 & 3.0 TDI" is in sale since Tuesday, July 30, 2019. This item is in the category "Auto & Motorrad\ Teile\Auto-Ersatz- & -Reparaturteile\Luft- & Kraftstoffversorgung\Einspritzpumpen". The seller is "autoteilekontor_com" and is located in Regenstauf. This item can be shipped worldwide.
Hersteller: Bosch
Referenznummer(n) OE: 0 445 010 611
Herstellernummer: 0445010685
Referenznummer(n) OEM: 059 130 755 AB