Graco Pump Packing Repair Kit 223411 223-411 Graco Pump Repair Kit Fits 5000HD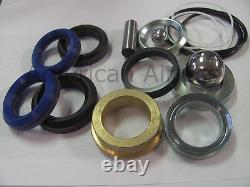 This is a Graco packing repair kit # 223411. It is for the Graco GM5000HD and some Mark V units. Because we sell at our retail location and in other places on the internet we sell hundreds of items per week and there are times when we will back order items while waiting for our new stock to arrive. Exceptions may occur only when customer provides P. Box and not a physical address.
Damages: If an item is damaged, please inform the driver and contact the carrier immediately. Also, take notes of the damage and pictures of the item and box. Damages will be handled immediately but credit cannot be given until the item is received. Feedback: Feedback is very important to us. Good communication will fix most problems.
Once you leave feedback, we will do the same.